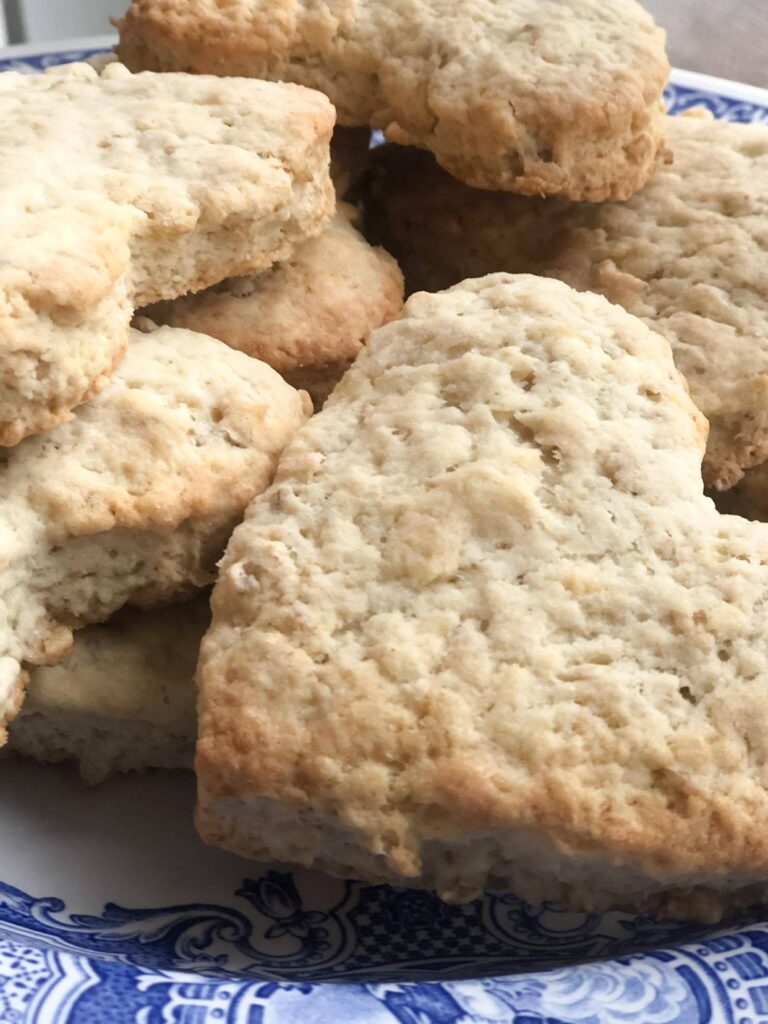 Oatmeal Scones- Adapted from Outlander Kitchen: The Official Outlander Companion Cookbook By: Theresa Carle-Sanders
Preheat oven to 350 
Ingredients:
2 cups of all-purpose flour
1 cup rolled oats
1/3 cup sugar
2 teaspoons baking powder
1/2 teaspoon kosher salt (I used pink himalayan)
3/4 cup (stick and a half) cold butter
2/3 cup light cream ( I used half and half)
Directions:
Combine flour, oats, sugar, baking powder, and salt in a large bowl. Mix well.
Set aside 2 tablespoons of butter. Grate the remaining butter into the flour mixture and stir so it comes together evenly.
Once somewhat combined add your cream and mix with a wooden spoon. Once it has combined used your hands to bring the dough together into a rough ball and knead on a floured surface until combined.
Pat the dough into a 1 inch thick sheet and use a cookie cutter to cut out your scones. You should have around 8-10 scones. Use a prepared baking sheet to evenly space out your scones. 
Melt the remaining 2 tablespoons of butter and brush the tops of the scones. 
Bake until golden brown on the tops and bottoms about 20-25 minutes.
Serve slightly warm with butter and jam.
Store in a covered container for 3-4 days.